Our smart tools and solutions make the behind the scenes details effortless.
Make your time count With
An intuitive logistics manager
We understand that everything is better when everything is connected. Whether online, in person, or a hybrid, eShow provides integrated solutions that will make your conference run smoothly, beginning to end.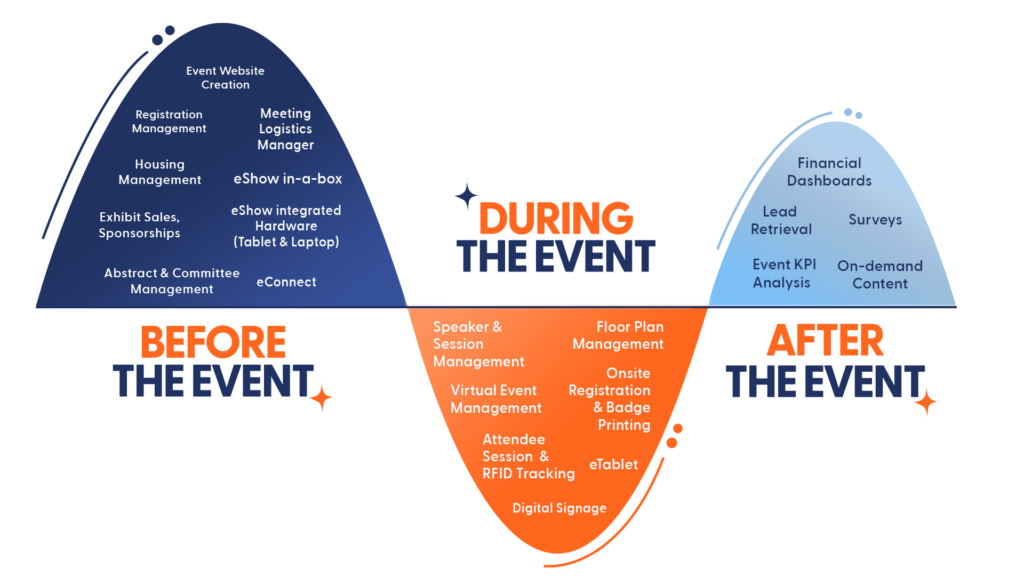 You make the list, we check it twice
Meeting Logistics Manager (MLM)
Keep a million details at your fingertips and enjoy having the power to shape and share the information as needed. A versatile tool that utilizes your specifications to orchestrate all the details for receptions, board/committee meetings, focus groups, lunches, exhibitor functions, and other gatherings.
Empower those who empower
speaker & Session Management
With a centralized hub for all things speaker and sessions, you can count on program success. Through a smart system, we can help clarify any issues that may arise, technology needs, content management, and allow speakers to take control of their sessions.
accesible and collaborative
abstract & committee management
Streamline your entire abstract submissions through painless and bi-directional systems.

You will be able to handle all your pre-conference needs including online submissions, peer committee reviews, and administrative monitoring.
Consistently Supporting you
The Conference Modules and Meeting Logistics Manager (MLM) starts with broad parameters such as your dates and venue and then begins narrowing the focus to have you select room sets, food and beverage choices, and even the AV equipment, electrical requirements, signage, and other supplies. 
Staff time and travel arrangements can also be factored in, and when other user groups are involved, the MLM helps you create forms to assemble their needs and requests directly in the module. Details are organized and easy to see at every stage.
Reports, Sheets, BEO's and More
The MLM also pushes your meeting plans straight into the reports you need. The powerful, intuitive module generates your function sheets/banquet event orders (BEOs), as well as expense reports and staff schedules. 
Your event information flows across the MLM and can be filtered, customized, and distributed based on your choices. 
The module even creates a Contractor Service Center, allowing you to give your vendors 24/7 access to worksheets with the real-time information that applies to them.
We've helped thousands of events succeed
Eshow helped save me time and money for my last planned event. Event coordinating can not only be very time consuming but extremely chaotic! This software helps plan and store everything so you don't have to! It truly takes all the hassle and troubles away. Thank you eshow for creating such a fantastic software!
LifeSpan 2021 Annual Conference, held in Ocean City, Maryland, September 28-October 1 was a successful and safe event. I would like to extend my thanks to Lisa Alicea and the team at eShow for a wonderful website, exhibit and education/speaker management. The team was supportive and responsive and helped ease the pains of being one of the first groups to kick off in person conference. Thanks again for all your assistance and always being willing to make updates and changes.
The team at eShow was ALWAYS responsive and easy to work with. Can't recommend them enough! We moved from a homegrown system to a professionally developed event registration system. We moved from long lines onsite at our annual convention to people getting their badges in UNDER ONE MINUTE. I was amazed especially since our convention was 4,000 people.
"In case I haven't mentioned this before, we really like Eshow. Everything is very simple to learn and intuitive. That's really important for us. We appreciate the assistance but also like that we have access to make some adjustments as needed on our own."
"This was our first virtual conference, and the eShow staff guided us through from start to finish. They were on hand before, during, and after the conference, and were with us in every [online] session to help. I was especially impressed with their immediate and effective responses during all phases of the process."
"Our attendees have attended hundreds of virtual event over the last year and a half of the pandemic and we have had multiple attendees say that OURS was the BEST one that they attended. Sure, some of it has something to do with our planning but the most important part is the eShow Platform itself; it creates a wonderful product for our association."
Let's discuss your ultimate event goals, your productivity workflows, and see where eShow can assist in easing your mind. Our event guru's are trained with efficiency and bottom line in mind.